2017 Ireland Trip
July 15-July 25, 2017
Our new flyer for the 2017 Ireland Trip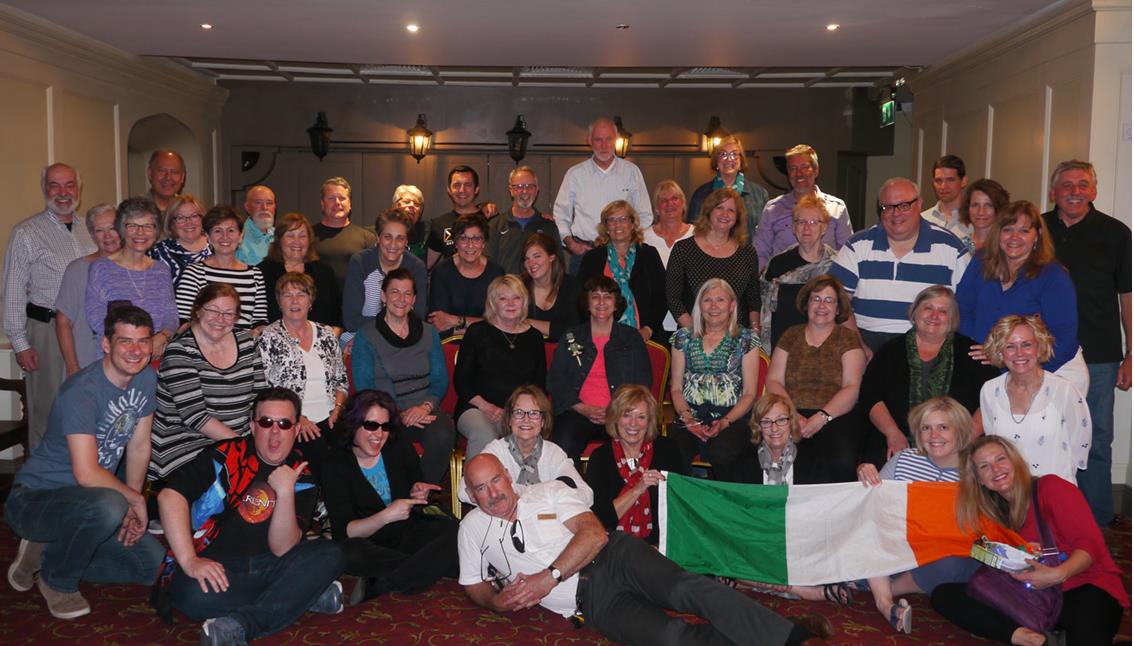 2016 Blackthorn travelers at the Old Ground Hotel in Ennis, Ireland.
July of 2016 we took our sixth tour of Ireland with a fun loving group of Blackthorn fans. Northern Ireland did not disappoint us. It was another amazing trip, successful far beyond our expectations. The hotels were "Four Star," the meals fabulous, and our driver/ guide was informative, witty, and an outright "hoot." Everyone was thrilled and we received rave reviews.
In 2017 we will turn our sights once again on the beautiful south and west coasts of Ireland. With the expert help of Isle Inn Tours, we have put together a custom trip that will take us back to some of our favorite destinations as well as some new attractions (CLICK HERE FOR THE FLYER WITH FULL DETAILS). Be sure to check out the beautiful hotels online, they are all rated four star and among the best in all of Ireland.
After landing in Dublin we will head to the beautiful town of Kilkenny where our journey begins. From there we will ramble through the lovely Irish countryside, first to the coastal harbor town of Kinsale (the gourmet center of Ireland), then to the vibrant city of Killarney, full of pubs and shops and hustle and bustle, and finally on to the quaint medieval town of Ennis where the tour ends. Along the way we will stop for a sheep dog demonstration, explore historic castles (Cashel, Blarney, Kilkenny, and King John's Castles), board a replica famine coffin ship, stroll through picturesque villages and witness the stunning coastline views at the Cliffs of Moher. We'll sample Jameson's Irish whiskey in Midleton, watch Waterford crystal being made, tour the world famous Ring of Kerry, and travel back in time at a medieval feast at Knappogue Castle. We even work in a bit of free time to shop and enjoy the pub scene.
This is not a "performance tour" but we will certainly be singing and playing tunes along the way. We're limited in what we can do without our full complement of band gear. However, there will be plenty of local musicians to enjoy. To get an idea of what a Blackthorn tour is like check out this photo compilation that David Pike, a first-year traveler, produced when he got back home to Washington (CLICK HERE). Yes Washington! We have had many out-of-state people join us so your location is not a problem. Isle Inn Tours can arrange flights for you from wherever you live.
If you want to join us simply complete the application form and send it to Isle Inn Tours with your deposit. You cannot do this online. They need the hard copy of the application and a check. We currently have a waiting list from last year's offering so we are fairly sure that the trip will sell out rather quickly. So, don't dally. Please feel free to email Andrea at Isle Inn Tours with your questions.
Click here to go to the Isle Inn Tours website.
Best wishes,
Dennis, Fred, Gary and Richard
BLACKTHORN